Doolally: From the town of Deolali, the location of an army base and sanatorium where soldiers leaving India in the late 19th century were sent before leaving for home. Those that became mentally deranged after contracting a fever, or Tap in Urdu, were said to have gone Doolally Tap.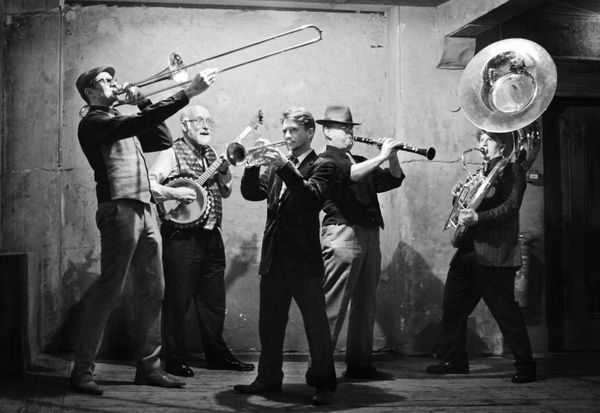 Doolally Tap's uniquely energetic brand of hot New Orleans jazz is like a breath of fresh air. Led by ace trombonist and vocalist David Lalljee, the band draws inspiration from Crescent City musicians like King Oliver, Louis Armstrong and Sidney Bechet, as well as the "second line" street bands they came out of, and Doolally Tap's performances evoke the true spirit and energy of the 1920s.
The band is hugely popular on the London vintage and swing dance circuit, performing at venues like The Nightjar, Wilton's Music Hall, Blues Kitchen and The Ditch, winning over audiences everywhere with their infectious, toe-tapping rhythms and irrepressible live show.
Doolally Tap have also added their own particular kind of raucous style to more opulent and sophisticated venues like Hampton Court Palace and Queen's House, Greenwich and those more usually associated with classical music like Chelsea's Cadogan Hall. It is even possible to see the band make a cameo appearance in the short movie Melvin, filmed at the world-famous Pinewood Studios.
The band features a classic vintage New Orleans line-up of trombone, trumpet, clarinet, banjo and bass saxophone, as well as the velvety crooning of trombonist and bandleader David Lalljee and the gnarled vocals of trumpeter Titch Walker. 
Everyone should go a bit doolally sometimes!